Invisalign in San Juan Capistrano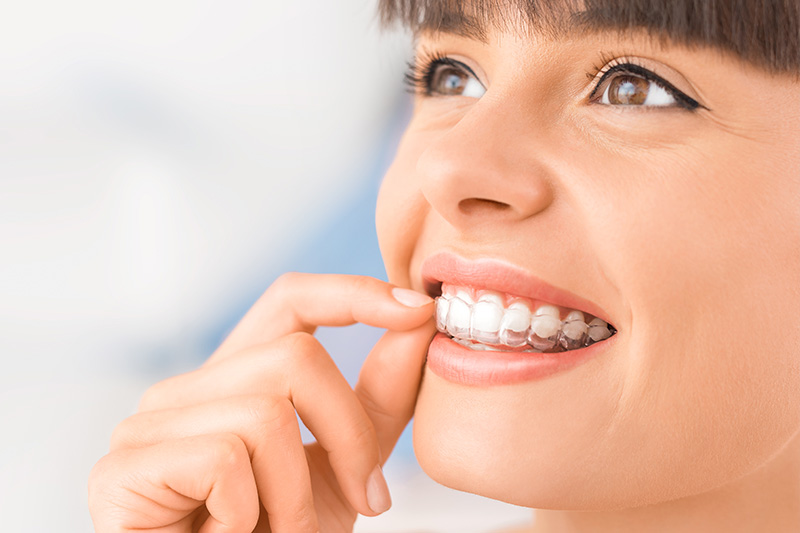 Introducing Invisalign ® – The Straightest Way to a Great Smile
Clear Braces for both adults and teenagers in Orange County
Invisalign straightens your teeth without the use of wires and brackets, using a series of clear, customized, removable appliances called aligners. Invisalign braces are virtually undetectable, which means hardly anyone will notice that you're straightening your teeth.
Clearly Different Braces
The Invisalign Clear Braces System combines advanced 3-D computer graphics technology with the 100-year-old science of orthodontics. Invisalign aligners are designed to move your teeth in small steps to the desired final position prescribed by your orthodontist. Each Invisalign aligner is precisely calibrated and manufactured to fit your mouth at each stage of the treatment plan.
Invisalign braces are often referred to as "invisible braces." This is because the Invisalign aligners are clear and many people won't be able to tell you are wearing them. Another wonderful aspect of these clear braces is that they are removable, allowing for better dental hygiene, ease when eating, and flexibility in social situations.
Are Clear Braces right For You?
Your first step is to visit Dr. Sayed's office in San Juan Capistrano to determine if Invisalign clear braces are right for you. After sending precise treatment instructions, Invisalign uses advanced computer technology to translate these instructions in a sequence of finely calibrated aligners -as few as 12 or as many as 48. Each aligner is worn for about two weeks and only taken out to eat, brush, and floss. As you replace each aligner with the next, your teeth will begin to move gradually, week-by-week, until the final alignment prescribed is attained. Then you'll be smiling like you never have before!
If you want to learn more about Invisalign invisible braces and how the Invisalign system works, please visit the Invisalign website.
To ensure the best possible results, only an orthodontist who has been trained and certified by Align Technology should diagnose and treat using Invisalign braces. Invisalign is not intended for children and is not appropriate for every adult. Only an orthodontist can determine if treatment with these clear braces is an effective option for you. To see if Invisalign can help you achieve the smile you've always wanted, call our Orange County office in San Juan Capistrano at (949) 493-3993 to make an appointment, or fill out the form on this page today. Invisalign may be just what you need to achieve the smile you deserve.
Orthodontic treatment in our office is very individualized. Your treatment plan will be unique and specific to you. The type of braces recommended and the length of time that they are to be worn depend on several factors. During your initial exam, Dr. Sayed will evaluate your teeth, your bite and your smile and present to you all possible treatment options, length of treatment, and treatment costs so that you may make a decision that addresses your specific concerns to achieve a healthy bite and beautiful smile.